---
The Book Quiz
Monday, November 20, 2006
Snaffled from
Jaye.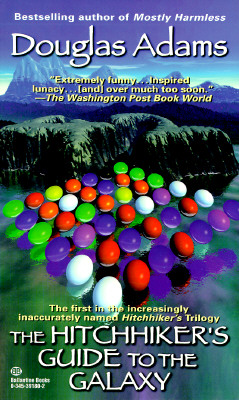 You're The Hitchhiker's Guide to the Galaxy!

by Douglas Adams

Considered by many to be one of the funniest people around, you are
quite an entertainer. You've also traveled to the far reaches of what you deem possible,
often confused and unsure of yourself. Life continues to jostle you around like a marble,
but it's shown you so much of the world that you don't care. Wacky adventures continue to
lie ahead. Your favorite number is 42.


Take the Book Quiz
at the Blue Pyramid.
11/20/2006 12:59:00 PM : :
Sela Carsen
: :
8 Comments
8 Comments:
Now this *sounds* like you. ;-) Or what I know of you from several years of online interaction. But my "book", doesn't sound like me at all. I'm an incurable romantic and more likely to nurse the flame of unrequited love with a good strong does of celibacy, rather than celebrate my undying affections through promiscuity. lol.

On the other hand... I love the magical realism of South American literature, so they got that right.
I think it sounds like me, too. Especially the lost and confused part!

I hear you about SA lit. I'm totally in love with Isabel Allende. Her works is so beautiful!
By

Sela Carsen, at 1:31 PM
Ah, I am from de Canada. Douglas Adams hails from Canada, I think.
In de deep woods of Parry Sound, Ontario, we have a bush philosopher named Charlie
Farquarson and he wrote the granddaddy to Mr. Adams book.

I am, how you say, too dumb to take de quiz, but I still have a tattered copy of "Charlie Farquarson's Guide to the Universe."
I have tried reading Mr. Adams, but to me, Charlie Farquarson is like de horse wit de two arsholes:
Charlie Farquarson is de Mayor.
I'm going to have to try that one out! Somehow, I don't think that's the description that will come up for me.
By

Sandra Ruttan, at 12:42 PM
Sandra, come back and tell us what you got!

Ivan, I had a hard time with Hitchhiker's Guide the first time I read it. I think I need to read it again. I think my brain might explode if I tried to read Mr Charlie's book!
By

Sela Carsen, at 1:09 PM
I just thought Don Herron (Charlie's real name) is one funny dude. He used to do so many skits live on Canadian TV as "Charlie
Farquarson", from Parry Sound.


Not even sure if Don Herron Still alive today. He was something like
Darryl Hammond and his impersonations of famous people--a huge laugh.
Multi-talented guy.
Now see, that's a part of Canadian pop-culture, I'm clueless about. But I love Darryl Hammond. He did the most spot on Bill O'Reilly (from Fox News) last Saturday. I nearly hurt myself laughing.
By

Sela Carsen, at 2:56 PM
Yeah, that Darryl Hammond!
I love it when he spoofs Bill O'Reilly...squelches everybody and puts outrageous words in their mouths--then cuts them off.

But that Bill Clinton impersonation. That drawl.That look: Priceless.

I do believe that Darryl is the only one who holds SNL together these days,what with Dana Carvey, Jimmy Fallon, Chris Kattan, Will Ferrel and Tinya Fey gone.
But it's vintage SNL that I really love. Ah, the old days! Belushi. Ackroyd, Jane.

Nowadays I switch to MAD TV.
Right up my alley.
What, me worry?